Today is already the last day of the year 2019 – how time flies. It has been an exciting year and most of al, thanks to your creativity, a very inspirational one. Before we say "Farewell, 2019!", we want to celebrate this year one last time. How? We went through our archives and had a look at the articles you liked the most this year. Are you ready for a little recap?
When it comes to gaming and movies, we all would picture Wacom to be a part of the visual workflow, right? Well, Tsugi studio demonstrated, that its even more than that and you seemed to be pretty excited about this news. With their pressure sensitivity Wacom pen tablets or display tablets also bring the creation of sounds to a new level. See for yourselves and read the full article about Wacom for audio design:

Remember Renee Robyn and her moody compositions? She is a brilliant commercial photographer, whose outputs inspire a lot of novice photographers. What makes them so unique, are her amazing post-production skills. We had the chance to visit and interview her, take a look behind the scenes and ask her some questions. Here's a short video for now, but if you want to learn more about her, just visit our article about Renee Robyn and her moody compositions:

"Wacom products are designed for designers. From their technical functionality to their well-balanced feel and ease of use they are made with the creative in mind", says Faik Karaoglu, Executive Vice President of Wacom's Creative Business Unit. "Creative professionals, as well as students and passionate hobbyists, find in Wacom a partner that provides them with the right tools to support their individual ambition." And 7 of these tools for creative students, hobbyists and professionals were awarded. Want to know which one? Check out our article to learn about the awards Wacom won.
Simon Stålenhag is an internationally acclaimed author, concept designer. His highly imaginative images and stories depicting illusive sci-fi phenomena in mundane, hyper-realistic landscapes have made Stålenhag one of the most sought-after visual storytellers in the world. Click on the image below to see more of his works you cherished a lot in April.
Henry Vargas is a 3D and character artist with a soft spot for kawaii, like the sweet monster below. We took the chance to take a deep dive into his world and asked him some questions. Are you curious for his advice? Check out this Wacom Deep Dive and learn, what kawaii is (if you did not know already).

Saeed Daliri is a traditional and digital artist, who speaks about how Wacom products aid him in his professional career. There are many services he offers, concept design including sculpting for one, but also automotive and architecture design. If you want to learn more about this versatile artist, read this article, if you want to see him draw, here's a small speed-paint for you.

Mayank Kumar is a freelance artist ever since he joined the Frameboxx animation academy in Dehradun. He started as a comic book artist, but is constantly learning new skills, like logo design, concept painting and so forth. To him, as a freelance artists, it is important to be the jack of all trades. We strongly recommend reading our Deep Dive on the truly inspirational Mayank Kumar, if you have not yet done that.

In August, you had been pretty interested in our feature about Buck, a top of the line creative commercial company, who created campaigns and videos like the following for Tinder or Mastercard. Just take a look at this video and meet parts of the team of Buck.
Ever wondered how toys get created? IHazToys brings it to a new level, by creating toys and sculptures of original ideas they create themselves or find online and work together with other artists makes their output so unique. No wonder, this has been the most popular article of September – missed it? Watch this video and read our article to find out more about IHazToys.

October came with the LUCCA Comics & Games and we got to work with the pretty inspirational and popular artist Lorenzo Ceccotti. You were pretty interested in learning more about him and his workflow and you seemed to enjoy his live drawing of our booth's artwork. Want to learn more about him and the creation of the following artwork? Just check out our Deep Dive.

In November we announced some pretty exciting news: the Android support of Wacom Intuos. Many of you wanted to know how to set it up and visited our article about setting up the Wacom Intuos for Andoid. You missed this article? Never mind, just watch this video or read the steps of how to set it up.

In the Advent Calendar on our blog there have been flash deals, a 7 day series of inspirational artists and tutorials and you really love to learn new skills. No wonder, you were interested on how to draw hair, a tutorial by Lera Kiryakova. Wonder how that goes? The video below shows you, or you could go to our article about Lera's hair tutorial, where we wrote down the process step by step.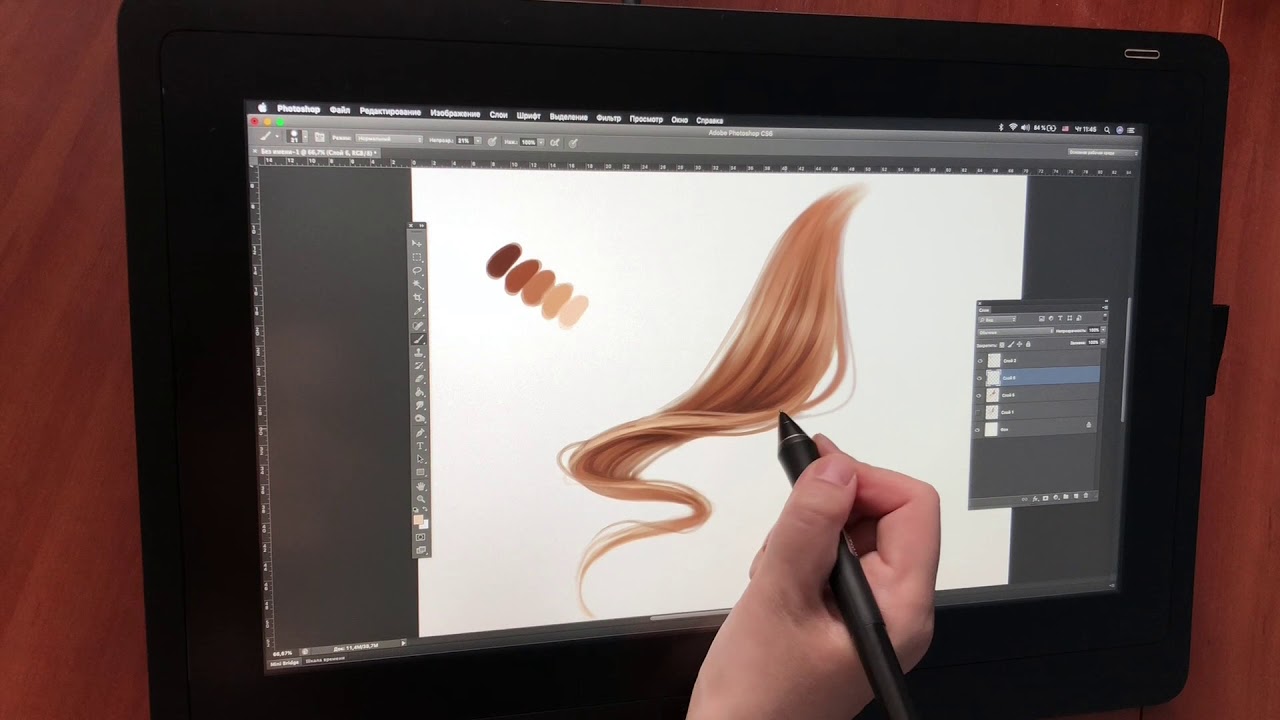 Farewell, 2019!
It has been a versatile year we enjoyed a lot. We hope you did too and you're also looking forward to a new year full of excitement, surprises, creativity and inspiration. So now, it is time to say goodbye and wish you a wonderful start into the new year.
Happy New Year!