Wacom has recently equipped the Isinnova team with gear for them to utilize to keep fighting with their groundbreaking design and creativity as weapons against COVID-19.
"Il supporto che stiamo ricevendo è davvero notevole! Ringraziamo Wacom per il regalo!
I nostri designer e progettisti li sapranno usare al meglio!
The support we are receiving is awesome! We thank Wacom for the gift! Our designers and engineers will be able to use them very well!"
-Isinnova's Team.



It's been only a few days since the world learned about the life-saving effort by a young team of engineers to design and 3D print venturi valves in order to save COVID-19 patients' lives at an Italian Hospital. As further recognition that 3D printing has the potential to deliver fast solutions in emergency situations, the Isinnova team now developed and successfully tested a 3D printed adapter to turn a snorkelling mask into a non-invasive ventilator for COVID-19 patients.


One of the problems related to current pandemic is the shortage of medical C-PAP oxygen therapy masks for sub-intensive therapy, especially in Italy. To deal with this problem, the Italian start-up Isinnova created a mask by readapting the Easybreath snorkel mask of Decathlon. The project is based on an idea of the former head physician of the Hospital of Gardone Valtrompia, Dr. Renato Favero.
Decathlon decided to supply Isinnova with the CAD model of the Easybreath mask and Isinnova implemented the necessary modifications to adapt the mask to the respirators. This is how the so-called "Charlotte valves" were designed: The new components were built to connect the snorkel mask to the oxygen therapy devices and can be manufactured by using a 3D printer.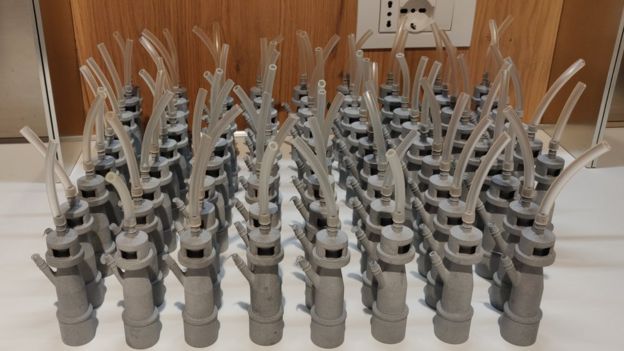 The prototype was tested at the Chiari Hospital, connected to the ventilator body, proved to be working. The hospital was enthusiastic about the idea and decided to test the device on a patient. That test was also successful. However, the inventors emphasize that neither the mask nor the link is certified and their use is recommended only in an emergency situation (which are now increasingly becoming the standard at hospitals around the world). Use by the patient is subject to acceptance of the use of an uncertified biomedical device, by providing a signed declaration.
You can find more information about Isinnova and the project  
HERE
.
What do you think of this idea? Let us know in a comment below and share this article so more people know about this amazing and creative project.
Live. Dare. Create.
The Isinnova team.