Wacom for creative education
Wacom products are used by professors and students at thousands of colleges and universities around the world, in a variety of majors and subjects, to bring creativity into the classroom while developing the real-world skills employers expect. Whether you're a student or a professor in an art or CTE program, these resources will help you create richer learning experiences, find your creative voice, prepare for successful careers, and keep you up-to-date on the latest in digital pen technology.
Wacom for education
The latest in education
Whether you're looking to enhance your lectures with digital ink, or you're a student who wants to master the same tools that today's top workplaces use, you're sure to find something useful here.
 Wacom discounts & promotions
Explore a variety of discounts and promotions for significant savings on new and refurbished Wacom products. Upgrade your creative toolkit with limited-time offers for artists, designers, and enthusiasts. Stay informed about the latest promotions on our website and through our newsletter, so you never miss a perfect deal.
Explore Wacom creative education content
Connected Ink Recap: The PAR Lab's innovative climate change animation project
The Penn Animation as Research Lab combines science and art to communicate emerging research related to climate change in a uniquely engaging way.
Connected Ink: How the PAR Lab is using Wacom devices to create an innovative science communication project
The Penn Animation as Research Lab combines science and art to communicate emerging research related to climate change in a uniquely engaging way.
Creative careers of the future, and the education and skills required to pursue them 
In this blog post, we'll explore how specialized tools, such as Wacom devices, have become indispensable assets for a variety of creative careers.
The top five online learning resources for aspiring artists
It's crucial to learn from more experienced artists to sharpen your skills. That's why we've pulled together these five great resources for aspiring artists.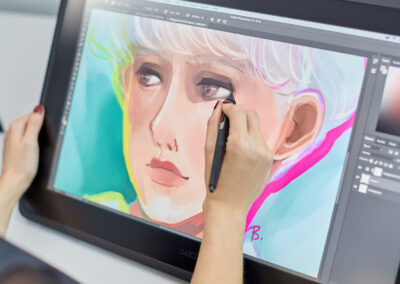 The complete guide to Adobe Photoshop brushes, Part 1: The toolbar
Want to master the use of Photoshop brushes? This is part 1 of a 4 part series that will give you a comprehensive understanding on using Photoshop brushes.
Nine great YouTube channels for aspiring anime artists
Are you an aspiring Anime artist? This post will walk through 9 great YouTube channels to help you jumpstart your artistic journey.
Etherington Bros' Comics Crash Course #5: Concept art
Want to learn to draw comics? The Etherington Bros have created hundreds of free tutorials and resources. Here's a preview -- how to tell a story through ...
How to solve drawing problems in digital painting, with Proko
Discover the process of transforming sketches into stunning digital paintings using Adobe Photoshop in this tutorial by Jon Neimeister.
Enable new ways to teach & learn with Wacom
With Wacom's intuitive, easy-to-use digital pen technology, schools and universities can keep up with the pace of change. Our products boost collaboration and interaction, even when student or teacher are working remotely. Designed to work seamlessly with your school's IT infrastructure, they're proven performers in any learning scenario.
The power of digital ink
Humans have been using ink for thousands of years to express ourselves and preserve knowledge – from plant-based paintings on cave walls to writing and illustrating foundational cultural manuscripts. In the 20th and 21st centuries, digital ink has taken this uniquely human impulse to the next level, with Wacom at the forefront. Wacom created the electro-magnetic resonance (EMR) technology that powers our devices, and we've been perfecting it ever since. Today, creatives worldwide use Wacom technology to empower their work through the use of digital ink.
Wacom has a pen tablet for nearly every creative pursuit. One by Wacom is perfect for the beginner or student. Wacom Intuos bridges the gap between traditional and digital, empowering digital drawing, painting, and photo editing for creatives of all levels. The new Wacom One pen tablets are convenient and customizable. And Wacom Intuos Pro is trusted by creative professionals who need the ultimate in precision, performance, and productivity.
With a Wacom pen display, you use our pressure-sensitive pens directly on the screen for ultimate control and accuracy. Available in a range of display sizes and feature sets – from the 13" display of Wacom One, portable and perfect for beginners, to the Wacom Cintiq Pro in sizes from 16" to 27", with best-in-class color, gesture controls, and ExpressKeys for customization – there's a Wacom pen display to empower every creator's wildest dreams.
Keep Making History
For nearly 40 years, you've relied on Wacom products to help bring your iconic and unforgettable creative expressions to life. We're committed to continued innovation and collaboration that will ensure that you have the tools, services and support to keep making history. Click below to learn more about our history, and to take advantage of all the activities and promotions we have planned for our birthday.