Uncategorised
The right inspiration for Online teaching, from the right person: a feature from Sal Khan
We have found an interesting example on the web about Online teaching and we want to share this with you:
With more than 5.6 Mio. followers on his YouTube channel, Sal Khan is a pioneer of the Online teaching techniques with many people supporting his incredible work.
From recording videos in his closet, to having one of the most amazing programs for education with the support of Google, Bill Gates and even Elon Musk! Get inspired by his story…
He created the Khan Academy in 2008, which provides free, donation-based e-learning with the aim of "providing free, world-class education to anyone, anywhere".
Of course, this has not come easy: More than 10 years of dedication and effort have been consumated here. He truly demonstrates the potential use of video in education in every single one of his deliveries.
If you are a teacher, or you know a teacher that is struggling to adapt into the "new normal"; we recommend you to take a look (and/or share) these videos and get the inspiration you need in order to "rock it" with your students.
Behind the Scenes
In the video from Bank of America, we can see Khan using a Wacom Intuos tablet to teach online.
The electrical engineer, who was born in New Orleans in 1976 to an Indian mother and a Bangladeshi father, studied at Harvard and the Massachusetts Institute of Technology.
The Khan Academy system, which has among its founding partners the Bill and Melinda Gates Foundation, Google, The O'Sullivan Foundation, the Carlos Slim Foundation and Ann and John Doerr, has as its motto "you only have to know one thing: you can learn anything.
Khan Academy: Video in Education
In this video from 60 Minutes, we can see some insights about his technique.
Elon Musk and Khan
Elon musk gives his personal opinion on the matter of education in an interview with khan academy.
The Princess of Asturias Award for International Cooperation 2019 was awarded to the mathematician.
The jury said it awarded the prize to the Khan Academy "for the consolidation of an original and transformative format that offers free educational material, via the Internet, for all ages, anywhere in the world.
We celebrate this amazing creator and we are very happy that he used our tablets to bring something better to society!
Khan's Varied Library
Algebra: Simplifying rational expressions; factoring quadratic equations
Brain Teasers: Blue Forehead Room Solution; alien abduction brain teaser
Biology: Embryonic stem cells; sex-linked traits
Current Economics: Econ. of a cupcake factory; analysis of cost per job saved from stimulus
History: Napoleon Bonaparte
Physics: Introduction to motion
Probability: Birthday probability problem
Valuation and Investing: Introduction to income statements
Venture Capital: Raising money for a startup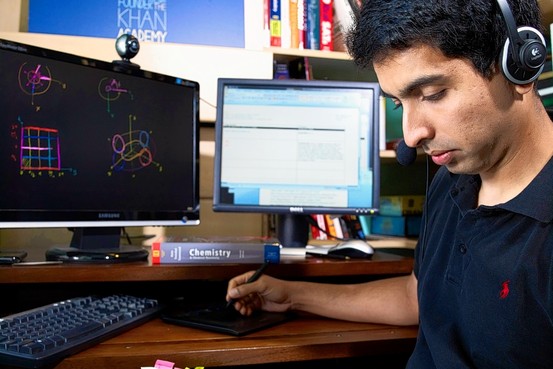 Explore the different tablets we have for online teaching: Wacom Intuos
Learn more about this inspiring person and project, here: https://www.khanacademy.org/
All images and videos are in total Copyright of Kahn Academy and original owners.
This is not a cooperation with Khan Academy. This is a feature article of a very inspiring creative person whom we admire very much.