This article is Part One of our three-part, complete guide to picking the right shoe models for your character design. Be sure to check out Part Two once you finish reading this article. 
Sneakers, boots, stilettos, flip-flops… There are so many shoe models that we can draw for each character. But how should we choose the right one? In this 3-part article series I will lead you through some examples while talking about why it's important to have a fashion sense while making a character design. 
According to Animator Benson Shum who works at Walt Disney Animation Studios, what makes a good character design is that when you look at it you immediately know what it is. And the production designer of Walt Disney Animation Studios Cory Loftis says that one of the key points of designing a character for film is to make your character not call attention to themselves. If you design something too cool or too remarkable, he goes on, it will distract the audience and they won't be able to follow the story.
Shum and Loftis are talking about designing a character for film, but it is no different when drawing humans for a still image. Our aim in illustration is very simple: We want people to know what it is, as fast as possible. The feeling and the characters should be easily understandable, and one of the fastest ways to do it is to draw the right clothing.
Clothing is one of the elements that make or break a character. And believe it or not, the footwear that a character is wearing is key to drawing the correct outfit.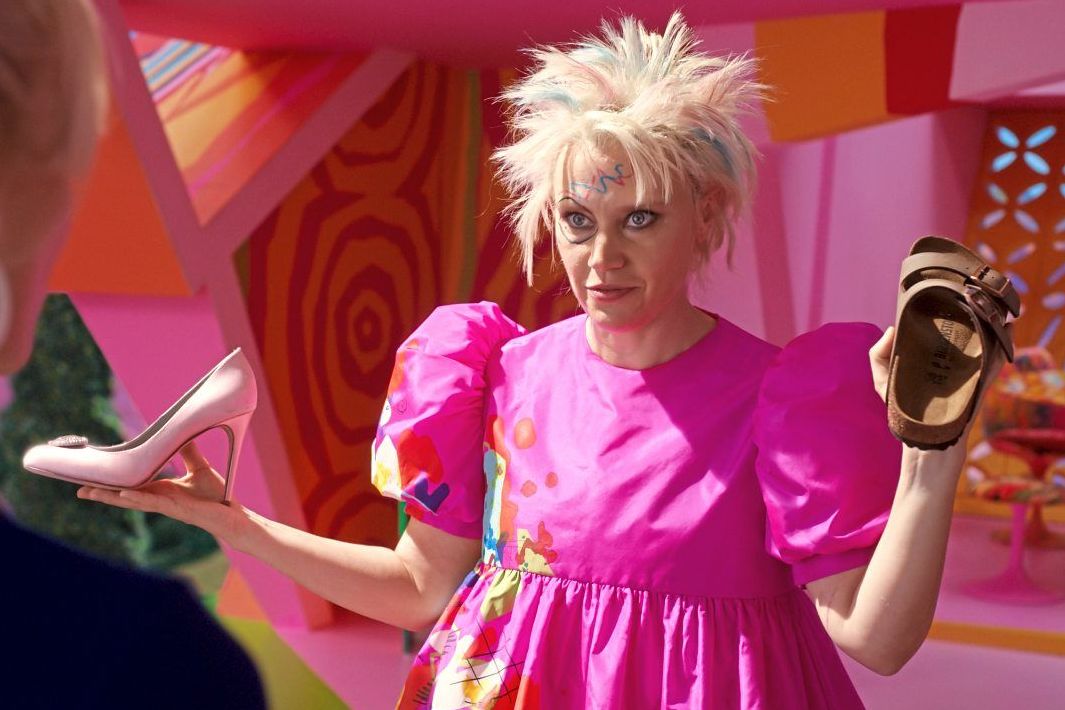 Warner Bros. Pictures via AP
Even in Barbie movie, -spoiler alert- Barbie must choose between high heels or Birkenstocks as a symbol for her red pill/ blue pill moment. In real life shoe models may not be as life changing as they are in Barbie Land, but when drawing a character, we artists should pay attention to details. If you don't draw details right, the action you're drawing or the story that you're telling may not be conveyed quickly, or it may get lost completely. Shoes fall under this category. If we want the attention to stay on the action or the story, we should give the audience the details that they are already expecting to see.
To explain it thoroughly, I will be writing 3 different articles. In each article, I will talk about different footwear types in the following categories: Sneakers, high heels, flats, dress shoes, boots, sandals, and slippers. In this first part of the series, I will be focusing on sneakers. In Part 2 and 3, I will follow the categories while giving examples with my illustrations.
Let's dive into our first category:
Sneakers
When we think about sneakers in real life, we think of so many models. However, when it's time to draw a character, most artists -including me- draw the same thing: Converse All Stars. Yes, they are easy and fun to draw, and yes, they literally go with any age, any gender, and any outfit.
But when our focus is on a feeling or an action, drawing suitable sneaker models for our characters would make them look more natural and it would add a certain variety to our work:
In this part of the series where I will be talking about Sneakers, I will give you some ideas as to which alternatives you can draw for your sketches other than classic Chuck Taylor high ankles.
For example, if we were to draw a person who is jogging, I would assume that their outfit and their sneakers would show some simple differences based on where they are jogging; in a gym, on the street in a city, or outdoor in a park:
And when someone is walking their dog, we may think that they are wearing comfortable shoes, therefore sneakers would be a good fit. Let's think of some examples other than Chucks. But also remember that a person's age or taste would probably affect their choice of sneakers.
Stereotyping is not cool in many cases in life, but when we are drawing for the purpose of telling a story, they sometimes actually help us. Unless the goal is to make a fashion statement, or to imply something else about the character, sticking to stereotypes to a certain extent serves for the purpose. By doing this, we avoid distracting the audience and we keep the focus on the action.
Let's take some other examples where a person may be wearing sneakers.
Here we have a cool teenager, leaning on a ledge, drinking juice. We can draw various sneakers for a teenager instead of Chucks:
Let's say our story focuses on a woman who's in her late 20s and she's late for work. We can draw stylish Chuck Taylors instead of the classics:
Long story short, keeping our sneaker library updated affects the variety of the characters that we can create. There are many sneaker models to draw for your character other than classic Converse All Stars.
Sneakers have been a big part of our daily outfits for the last few decades, and as you see in the examples above, which model someone wears can not only be an indicator of their character or their age, but also it is a strong indicator of the year that they live in. I want to talk about sneakers in more detail in another article, because I think they deserve their own title. But before doing that, I will be moving on to other type of shoe models to draw for your characters in the second part of this article series: Let's talk about high heels, flats, and dress shoes!
About the author:
Zeynep Alpay is a freelance multidisciplinary artist and illustrator based in Düsseldorf, Germany. Their work encompasses illustrations, animations, paper cut-outs, and traditional artwork.
For more information or to see more of Zeynep's works, check out their website.